Written on May 5, 2011 at 2:12 pm
Filed under:
Jewellery
with tags:
earrings
,
finished project
I didn't have much time during the school term to work on many projects (but I did take photos of everything, so I will show you everything as time goes by). Here are two pairs of earrings that I made when spring was just beginning back in March. I just wanted to make something light and fun to wear that wasn't going to take too long to make (and these are quick projects!) and would add a little colour to whatever it is that I wear.
The first pair uses a mix of seed and bugle beads with flower charms and chemically antiqued earring hooks. They are approximately 2.5 cm (~1″) in diameter.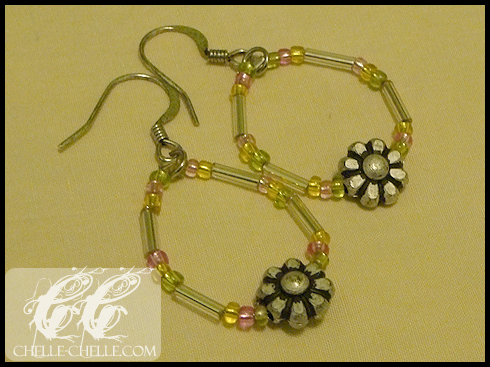 This second pair uses beads that I've shown on the site before, even with the same star charms. I paired them up with very simple stainless steel earring hooks and headpins.