Written on January 19, 2012 at 6:58 pm
Filed under:
Crafting
with tags:
finished project
,
knit
,
socks
These have been a long, long, long time in the making. I completed the first sock fairly quickly but then spent forever on not doing the second sock. There's a term for that: Second Sock Syndrome. I finished both socks back in the end of December, but just got around to posting about it now.
These socks are knit from the Basic Ribbed Socks pattern by Kate Atherley. It is a free pattern that is available on Ravelry.
I knit on 2.75mm (US 2) double pointed needles. I didn't actually have a set of dpns in 2.75mm, but I did have several from thrift store baggies so I found 4 mismatched dpns in the right size.
I used Regia's Design Line by Kaffe Fassett in colourway 04450. I affectionately referred to the colour as 'clown barf' after I had knitted enough of the first sock to see how the colours were coming along. I had bought 2 balls of the yarn (460.0yds or 420.6m per 50g) and had, as you can see from the first photo, a lot left over. I used the excess amount of yarn for knitting other things (primarily doll clothing).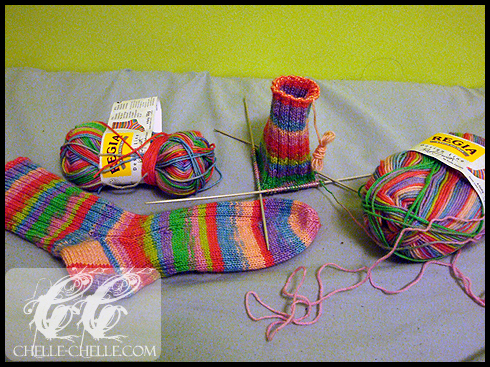 I learned from knitting socks that I really dislike ladders. I got them wherever I changed needles, which I did not like. I resolved to get other needles (circulars) for magic looping socks in the future (more on that in a future post).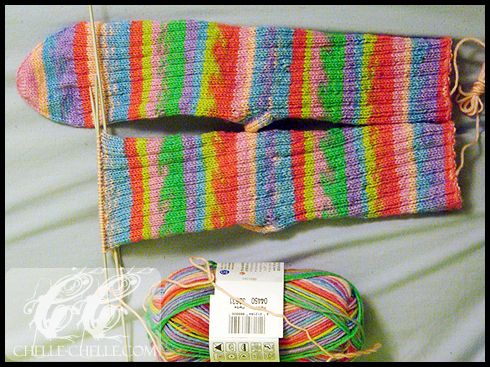 I was really happy that they were matching up! It was one of the things that I really wanted to be sure that I did – get the darn socks matching. They were close enough for me (I can point out where they're not, but I knit them and have that privilege of pointing them out to myself).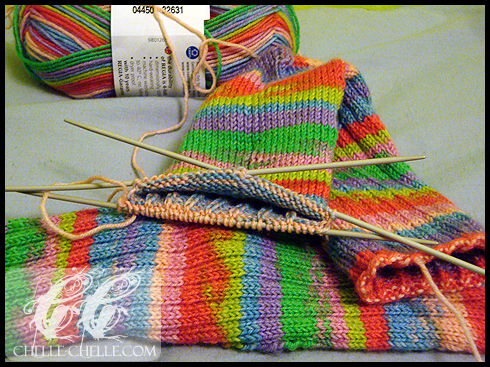 The socks are super simple. 3k1p ribbing for the foot and leg, part of the ribbing continues down the foot. The heel flap and gusset were the first time I had done a heel. I will admit that when I was reading the instructions, I could not visualize how the heel could possibly be formed. But I just took the instructions as being true and then I made a heel! How awesome is that?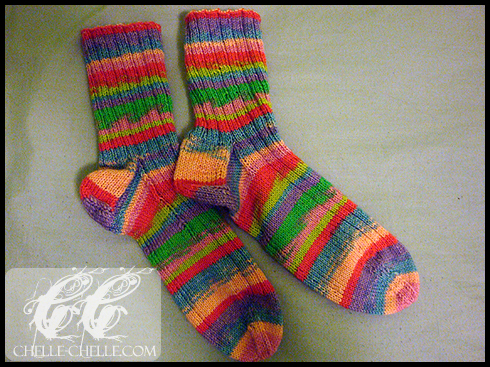 Before washing them for the first time, I have a completed pair of socks!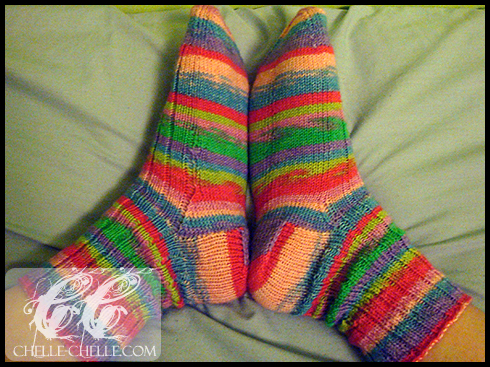 So, socks. They ended up being probably about 3-4 rows too short for my feet. I wear size 7 US shoes. They fit my mom perfectly though, so I gave them to her (she loves them, and has 6½ feet).