Written on April 13, 2009 at 8:55 pm
Filed under:
Crafting
with tags:
earrings
,
Jewellery
I made these back in February, took photos of them on April 1st and got around to uploading them a few days ago. And posting them now. Because it takes a few seconds.
I picked up a vial of mixed beads at a store a while ago. I was debating between sorting them or just using them as is – I decided against sorting. I poured out the beads into a tray and picked up whichever ones were closest and just strung them on and this is what I ended up with. I forgot to do measurements before writing this, but they're probably approximately 2.5″ in length, without including the fishhooks.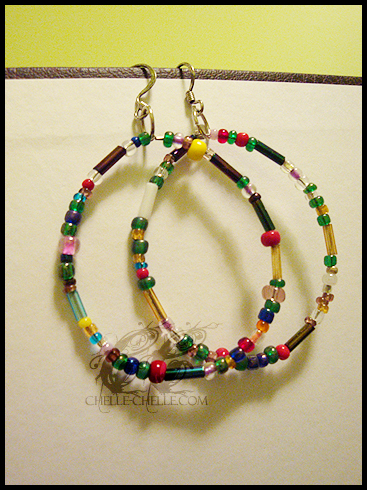 Materials: base metal jump rings and crimp tubes, nylon coated wire, antiqued silver fishhooks and multi-coloured plastic and glass seed & bugle beads.