Written on March 25, 2010 at 5:21 pm
Filed under:
Crafting
,
Free Pattern
with tags:
Blythe
,
Crochet
,
free
,
hat
,
patterns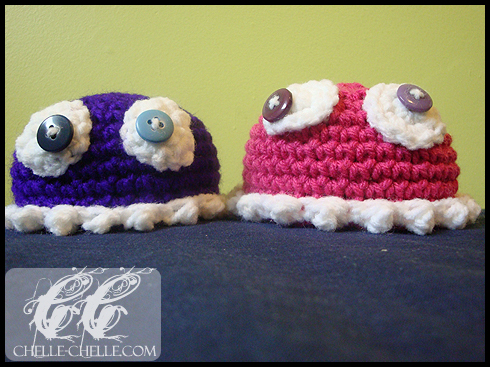 This pattern was inspired by Lisa at q.D.PaToOtieS' Blythe Brain Sucking Monster Hat. I saw the image and never saved the pattern and then when I went to find it, I couldn't! So I came up with my own way of putting together the monster hat (and shortly after I completed my first Blythe Monster Hat, I found the original pattern by Lisa).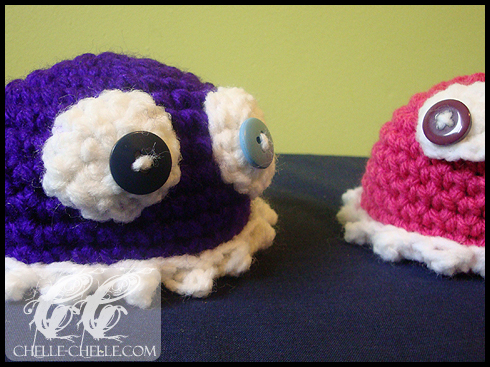 Difficult Level: Easy
Size: Fits Blythe dolls (does not fit Petite Blythe).
Materials:
Worsted weight yarn (MC = Main Colour, CC = white)
5.00mm hook (US H/8)
2 buttons (does not need to be matching)
Yarn needle
Stitch markers (optional)
Notes:
For the purple hat, I used Red Heart Super Saver (purple, white) for both colours.
For the pink hat, I used Bernat Super Value (pink) and Red Heart Super Saver (white).
You need to know how to increase with single crochet stitches and how to do the magic ring.
Abbreviations:
sc – single crochet
ss – slip stitch
st – stitch
tr – triple crochet
Pattern Notes:
Number of stitches listed at the end of the row in the parentheses.
Pattern is worked in the round (not joined at the end of each round) – use stitch markers to help with counting.
Directions
Hat (in MC and CC)
Round 1: In MC, crochet 6 sc in a magic ring (6).
Round 2: *2 sc in next st* repeat 6 (12).
Round 3: *sc 1, 2 sc in next st* repeat 6 (18).
Round 4: *sc 2, 2 sc in next st* repeat 6 (24).
Round 5: *sc 3, 2 sc in next st* repeat 6 (30).
Round 6: *sc 4, 2 sc in next st* repeat 6 (36).
Round 7-12: Work even in sc (36).
Round 13: With CC, ss each st around (36).
Round 14: *sc 1, 1 tr* repeat 18 (36).
Fasten off, tuck in ends.
Eyes (in CC) – Make 2
Round 1: In CC, crochet 6 sc in a magic ring (6).
Round 2: *2 sc in next st* repeat 6 (12).
Fasten off, leave long tail for sewing.
Assembly
Attach buttons to eyes prior to attachment to hat. For a fun look, have the buttons looking in opposite directions or have the monster be cross-eyed.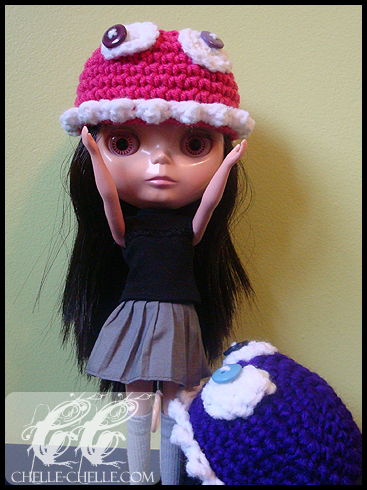 —
This pattern is an original pattern by Michelle W. (March 2010). Please do not claim this pattern as your own. If you wish to share this pattern, you may link to this pattern but do not sell or otherwise distribute it. Items made from this pattern may not be sold as the pattern is for personal use only. Please contact me via my website http://chelle-chelle.com if you have any questions, comments or concerns.