Written on April 2, 2010 at 1:20 pm
Filed under:
Knitting
with tags:
cowl
,
musings
Knitting in the round (with both circular knitting needles and double pointed needles [DPNs]) is something that I've recently (sort of) mastered. I lamented about my inability to 'get' the whole circular knitting thing and a Twitter/Flickr friend (irulethegalaxy) helped me out by explaining the basics to me (and was a lot more patient than my sister ever was when explaining it to me!).
My first attempt at knitting in the round was done with double pointed needles. I found it difficult at the beginning because after spreading out my stitches onto three needles, I was left with 6 different pointed ends constantly poking into my fingers or the palms of my hands. But eventually, I did "get" it and ended up with a short, stubby little tube.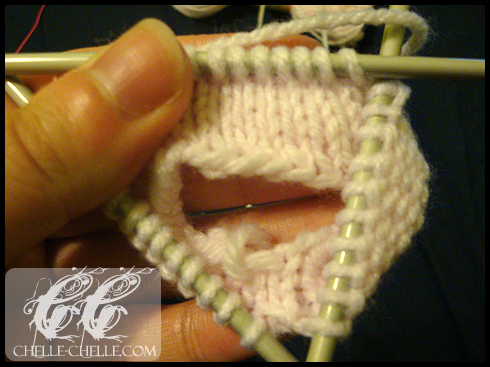 My tension was off, there were little visible 'ladders' so I could see exactly where the stitches changed from each needle, but it was okay, because I could knit with DPNs!
For my second attempt at knitting the round, I grabbed a pair of circular knitting needles (8mm) for this lovely ball of super bulky weight yarn. The one thing I love about chunky knits is that it works up relatively quickly because everything's a lot bigger in width, height and overall thickness.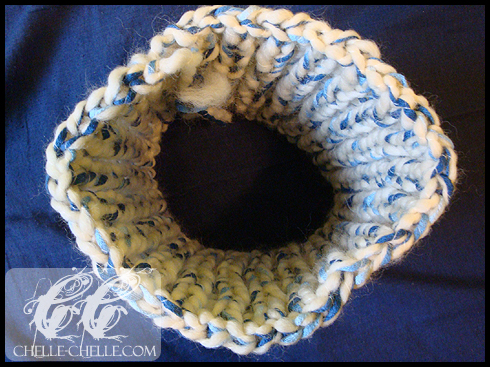 It's a lot different with crocheting in joined rounds (joined rounds, unless you've got the world's best tension, results in having a noticeable 'seam' where you joined the rounds) but it's quite similar to crochet in the round (no seam, spirals up), which I'm most familiar with. I'm a lot more comfortable with freestyling my own designs in crochet, so unless there's no shaping involved, chances are that I'll be reaching for a crochet hook instead of knitting needles for making amigurumis, but I do love the fact that I know how to knit in the round for both DPNs and circulars!