Written on April 6, 2010 at 3:48 pm
Filed under:
Crafting
with tags:
Blythe
,
Crochet
,
fulling
,
hat
My first adventures with fulling (or better known as felting, even if it's technically not the proper term)!
The yarn I used was Nashua Wooly Stripes. This yarn is 100% wool worsted weight and the colour is WS14 Blackened Jade. I used a 5.50mm hook (US I9) for this project and the pattern was one of my own (i.e. I made it up as I went along).
Before fulling: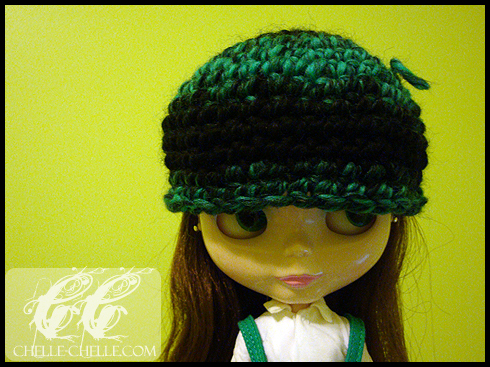 I decided not to use the washing machine  (mainly because it was so darn small and I wanted to have better control of how much it shrunk). I did it by hand in the bathroom sink. I ran the water as hot as it would go and just squished the hat a lot, along with rubbing the yarn together as much as humanly possible. Once it was more or less as small as I wanted it to be, I wrung it out to get out as much excess water as possible and then allowed it to dry.
After fulling: