Written on December 25, 2009 at 10:59 pm
Filed under:
Crafting
with tags:
Crochet
,
finished project
,
gift
,
scarf
The Seafoam Drift Scarf was made for my mom for the holidays. She loves it! It's a crocheted scarf in an open mesh pattern with a fringe added on. I'm toying with the idea of posting up the pattern for this. The open mesh pattern is really easy to do and it works up fairly quickly, because of all the open space. It took ~6 hours and it is about 5'5″ long.
Pattern: None used
Materials: Bernat Satin Sport in Jade
Length: ~5'5″ (without fringe)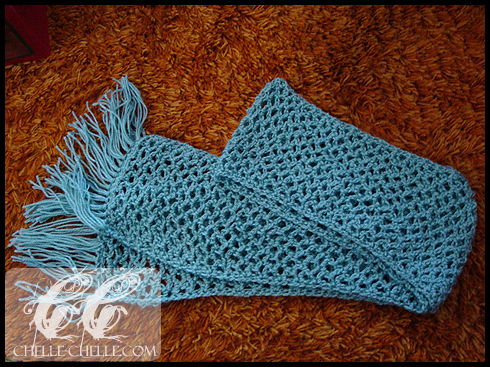 The entire scarf, the fringe is actually even (it looks a bit uneven in this photo, probably because I didn't arrange it very well on the carpet).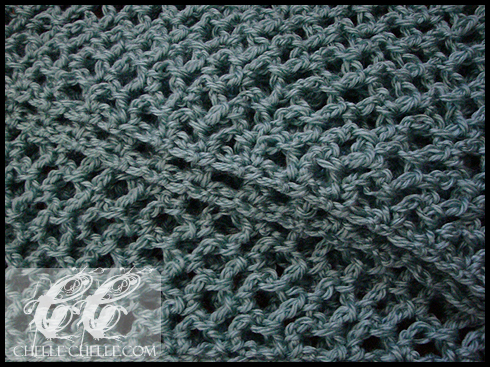 Close up of the pattern.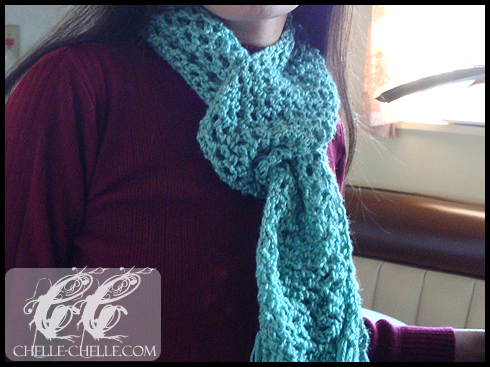 My mom wearing the scarf. The colour near the bottom is a lot brighter than the colour of the scarf actually is. The colour closest to her neck on the left side is the most true-to-life, in terms of colour.