Written on January 9, 2010 at 11:15 pm
Filed under:
Crafting
,
Free Pattern
with tags:
Crochet
,
hat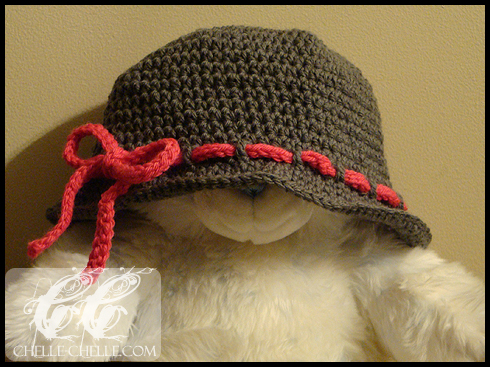 The Cloche originates from the 1920s and was made of felt for a form-fitting bell-shaped hat. While I was looking for a new hat pattern to try out, I couldn't find one for a cloche that I particularly liked. They were either too bell-shaped or not bell-shaped enough, so I decided to try my hand at making a cloche-inspired hat with just a subtle bell-shape that I wouldn't mind wearing.
I tried out, for the first time, Nashua Handknits Creative Focus Superwash (50% merino, 50% wool). The yarn felt a little stiff when it was in the ball, but once it was crocheted up into the hat, it felt nice and soft. My only complaint about the yarn is that it splits easily when crocheting – this is a common issue with superwash yarns.
The pattern for this hat has been written up and has three different sizes available (21.25″, 22″ and 24″ for head circumference). The name of the pattern is Ruse, there's no real story about where the name of the hat came from.
Want to make your own hat? The pattern is free! Click to download a PDF copy of the Ruse hat pattern.
Difficulty Level: Easy
Update August 21 2010: Due to some questions regarding how to proceed with Round 1 of the Ruse hat pattern, I've updated the pdf file with the second revision and it is now available for download.