Written on March 7, 2011 at 6:05 pm
Filed under:
Newsworthy
with tags:
musings
,
yarn shopping
Sometimes I feel as if I find inspiration in the oddest of places. I found a copy of the 1979 Reader's Digest Complete Guide to Needlework in a thrift store two weeks ago.
It's also the best $1.99+tax I've ever spent.
It's gorgeous, hard cover, full colour photographs. Many of the knitting and crochet designs are incredibly dated (and no, those designs have not made a comeback yet). It has a huge section of embroidery, some information on quilting and rug-making (latch hook and punch needle). There's information on making lace (there's more than just tatting [!], which I never knew before). There's some great stitch patterns that I have never seen before in any of the other stitch dictionaries that I own, so I was really excited to be able to find this.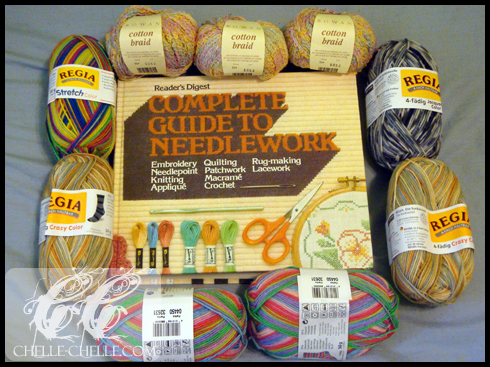 Surrounding my new-old book is some new yarn. All of the Regia is sock yarn, the four closest to the bottom are going to be knitted into socks. The other two are marked for dolly-related knitting. But the three at the top? Oh, I only wish you could all see how beautiful it is. It's Rowan's Cotton Braid and I just got it today. It's a discontinued (boo!) line of yarn from Rowan and it's in this gorgeous rainbow of colours (goes from pinks to oranges to greens to blues to violets). It is a novelty-type yarn (which kinda surprises me that I even bought it because I generally don't really like working with novelty yarns), but it's gorgeous and made primarily of natural materials (68% cotton, 22% rayon, 10% linen). I can definitely see a nice summery scarf made from it!